MCHF Secondary Learning Centre – The Place to Be!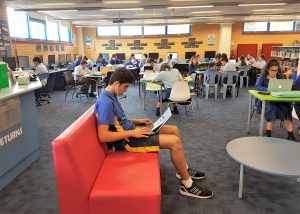 The MCHF Secondary Learning Centre supports the College in its mission to educate and teach.  The Centre is located in the A building of the College and serves the needs of students from Year 7 to 12.  It is well-resourced with fiction and non-fiction books, eBooks, iPads, laptops and other media that facilitate both independent and collaborative learning across all subject areas.  The Learning Centre consists of multiple, flexible spaces with four areas that can be booked by teachers in order to accommodate different learning styles and activities.
The Learning Centre is open Monday to Friday, from 8.10am until 3.30pm and students can utilise this space before school, recess, lunch and after school. The centre is also the venue for the College's weekly Homework Club that is held each Wednesday from 3.30pm – 4.30pm.
MCHF ePlatform 
The MCHF ePlatform is a library lending system designed to make the borrowing and reading of eBooks simple and enjoyable. Through this ePlatform, students are able to browse for, borrow and read eBooks anywhere, anytime and on multiple devices. Students can borrow two eBooks at a time for a maximum loan of two weeks each.
The app can be accessed on an iPad, iPhone, Galaxy and most other devices following these easy steps:
Download the ePlatform app, ePlatform by Wheelers, from the Apple, Google Playor Windows app stores.
Look for your library, Maronite College of the Holy Family
Sign in to the app to begin borrowing and reading. Username: firstname.surname Password: mchf2017– you'll only need to do this once.
Search for, borrow and read or listen to any book you want!
Alternatively, you can access the College ePlatform directly through the following link: https://mchf.wheelers.co  and login using the same username and password as the app.