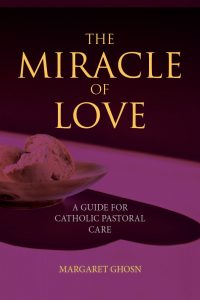 Sr Margaret's new book: 'The Miracle of Love. A guide for Catholic Pastoral Care' is available for purchase from the College or through the publisher  http://coventrypress.com.au/Bookstore?product_id=52
This is a new, comprehensive and encouraging guide to Catholic pastoral care. The book is about caregiving that involves physical effort, practical assistance, spiritual wisdom, relationship development, faith nurturing, justice seeking; about growing together and, in the light of the Jesus tradition, making the world we live in a more welcoming, forgiving and caring place.
Principal's Message
Dear Staff, students and parents
2018 promises to be a very big year!
The Opening of the new C block will take place around June and staff and students will have access to a new learning environment with all the latest in technology. The learning spaces are open and allow for team teaching and collaborative learning. Most  importantly, the Secondary will now be on the one campus and security around the College can be tightened.
Secondly, we are moving our IT system in new directions. Our administration system will be School Edge. Our communication will be through Microsoft Sharepoint. Furthermore, to keep our parents informed, we have introduced a parent portal and Skoolbag app. STEM days are also on the agenda this year with emphasis on robotics and coding.
Our enrolment numbers are continually increasing and we are becoming a little more multicultural in our student backgrounds. In addition, we are partnering with schools in China and welcoming their students to experience a week at MCHF as a cultural and educational immersion experience.
The Theme for 2018
The Theme for 2018 will be based on our College motto 'To Know, Love and Serve.' We will take 'To Know' as our focus for the year. The theme 'To Know' has three key points:
To know God – this is our ultimate purpose in life. To realise that God is love and we matter to God. To know God, is to experience a deep sense of inner peace and love.
To know oneself – in our journey of life we will be faced with positive and negative realities about ourselves. We can only become the person we are meant to be when we know ourselves honestly. As Paul writes in his First Letter to the Corinthians (1 Cor 13:11-12), 'When I was a child, I spoke like a child, I thought like a child, I reasoned like a child; when I became an adult, I put an end to childish ways. For now we see in a mirror, dimly, but then we will see face to face. Now I know only in part; then I will know fully, even as I have been fully known.'
To grow in knowledge – as educators or as students, we are always invited to know more. What knowledge have we gained over our lives and to what use do we put our knowledge? Do we seek to better ourselves through knowledge? Have we a desire to know more, know the truth, know about the mysteries of life?
So as we embark on the journey of 2018, as the community at Maronite College of the Holy Family, may we grow in true knowledge and become bearers of truth.
Regards
Sr Margaret Ghosn
PRINCIPAL