Maronite College of the Holy Family is aware of the investigative article published by Sydney Morning Herald that is questioning the integrity of the Maronite Church and agencies. We would like to reassure our College community that MCHF has been audited and was able to provide all requested documents to ensure compliance. Although the final audit report has yet to be released, we are confident that our College reputation will be upheld.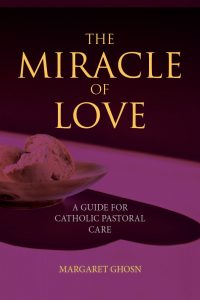 Sr Margaret's new book: 'The Miracle of Love. A guide for Catholic Pastoral Care' is available for purchase from the College or through the publisher  http://coventrypress.com.au/Bookstore?product_id=52
This is a new, comprehensive and encouraging guide to Catholic pastoral care. The book is about caregiving that involves physical effort, practical assistance, spiritual wisdom, relationship development, faith nurturing, justice seeking; about growing together and, in the light of the Jesus tradition, making the world we live in a more welcoming, forgiving and caring place.
Principal's Message
The Theme for 2018
The Theme for 2018 will be based on our College motto 'To Know, Love and Serve.' We will take 'To Know' as our focus for the year. The theme 'To Know' has three key points:
To know God – this is our ultimate purpose in life. To realise that God is love and we matter to God. To know God, is to experience a deep sense of inner peace and love.
To know oneself – in our journey of life we will be faced with positive and negative realities about ourselves. We can only become the person we are meant to be when we know ourselves honestly. As Paul writes in his First Letter to the Corinthians (1 Cor 13:11-12), 'When I was a child, I spoke like a child, I thought like a child, I reasoned like a child; when I became an adult, I put an end to childish ways. For now we see in a mirror, dimly, but then we will see face to face. Now I know only in part; then I will know fully, even as I have been fully known.'
To grow in knowledge – as educators or as students, we are always invited to know more. What knowledge have we gained over our lives and to what use do we put our knowledge? Do we seek to better ourselves through knowledge? Have we a desire to know more, know the truth, know about the mysteries of life?
So as we embark on the journey of 2018, as the community at Maronite College of the Holy Family, may we grow in true knowledge and become bearers of truth.
Regards
Sr Margaret Ghosn
PRINCIPAL